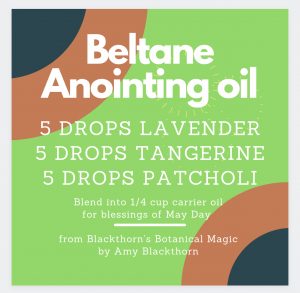 This Beltane anointing oil comes with the magic of:
Lavender (Lavandula angustifolia) for love, peace and health
Tangerine (Citrus reticulata) for purification of those winter blahs, physical energy and joy
Patchouli (Pogostemon cablin) for Physical energy, sex and money
Find additional ritual anointing oils in, 'Blackthorn's Botanical Magic' by Amy Blackthorn. Available now.
You can also find ritual teas at Blackthorn's Botanicals.  Get 20% all purchases of teas, classes, spell candles and oils through May 15th 2021 by entering code Plants at Check out.