Tarot 
 PHOTOGRAPH BY BRAD GLAZIER
Please use the Contact form to book Divination Services
"Amy wasn't the first person to do a Tarot reading for me, but she is now the only person that does Tarot readings for me.  I could tell right away; she has a wonderful gift.  She was completely on the mark and offered the insight that I needed at the time.  And it's evident that Amy truly likes to help people; her sincerity is genuine!"  Francine D.
     "Amy is fantastic and head on intuitive. She's incredibly funny, and a walking esoteric encyclopedia, seriously." -Aned R.
"Amy walks the walk. She gives you insight, answers, and food for thought. I've never met anyone who knows as much about herbs and plants, and their therapeutic properties, as she does. She is amazing at everything she does, (which, trust me, is very diverse) and not to mention anyone who can call her a personal friend is a very, very lucky person.
I trust this woman. And I don't trust anyone."-Mel D.
 Pricing: $100/hr, minimum 30 minutes. Parties by request.  Appointments are available in person, and via Facetime, Email and Zoom. Appointments can be recorded, notes taken or both. Everyone learns in their own way.

    Rev. Amy Blackthorn has been working with her Guides as a professional intuitive since 1999 and has made it a point to develop her own personal style when it comes to reading. She uses 2-3 or sometimes more decks during a single reading.  She uses a mix of traditional tarot and oracle decks and seamlessly blends them into a single narrative for her clients.  Amy's multiple strand technique easily illustrates important themes in the lives of her clients due to multiple decks displaying the same card for emphasis in a reading.  Amy is trained in divination methods from cards to gemstones.  She has even designed her own oracle deck.
Amy's Signature Reading (30-minute minimum): Starts with a 14 card spread using two or more card decks and discusses past, current and future influences surrounding the client, and helps to develop an action plan to face any adversity head-on.  Amy works with her guides to answer additional questions that pop up during readings.  More cards are added to the spread as new issues arise and questions answered.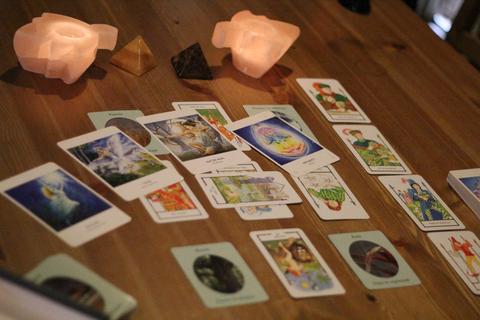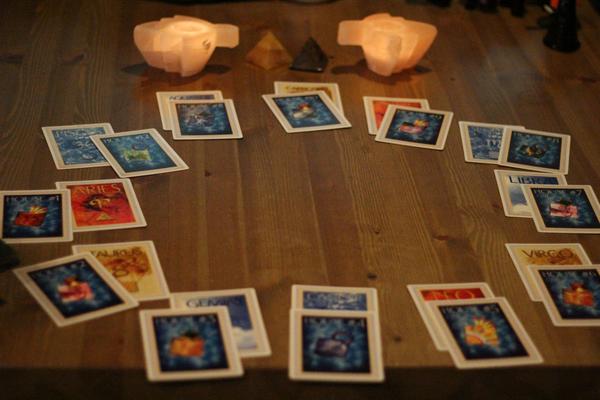 Astrological "Path of the Soul" Reading (60-minute minimum): This card reading discusses the hardships that you may have to deal with on your journey and how best to deal with the conflicts in your life.  All you need to bring is your sun sign.  This requires a min. 60-minute session.