Blackthorn School of Magic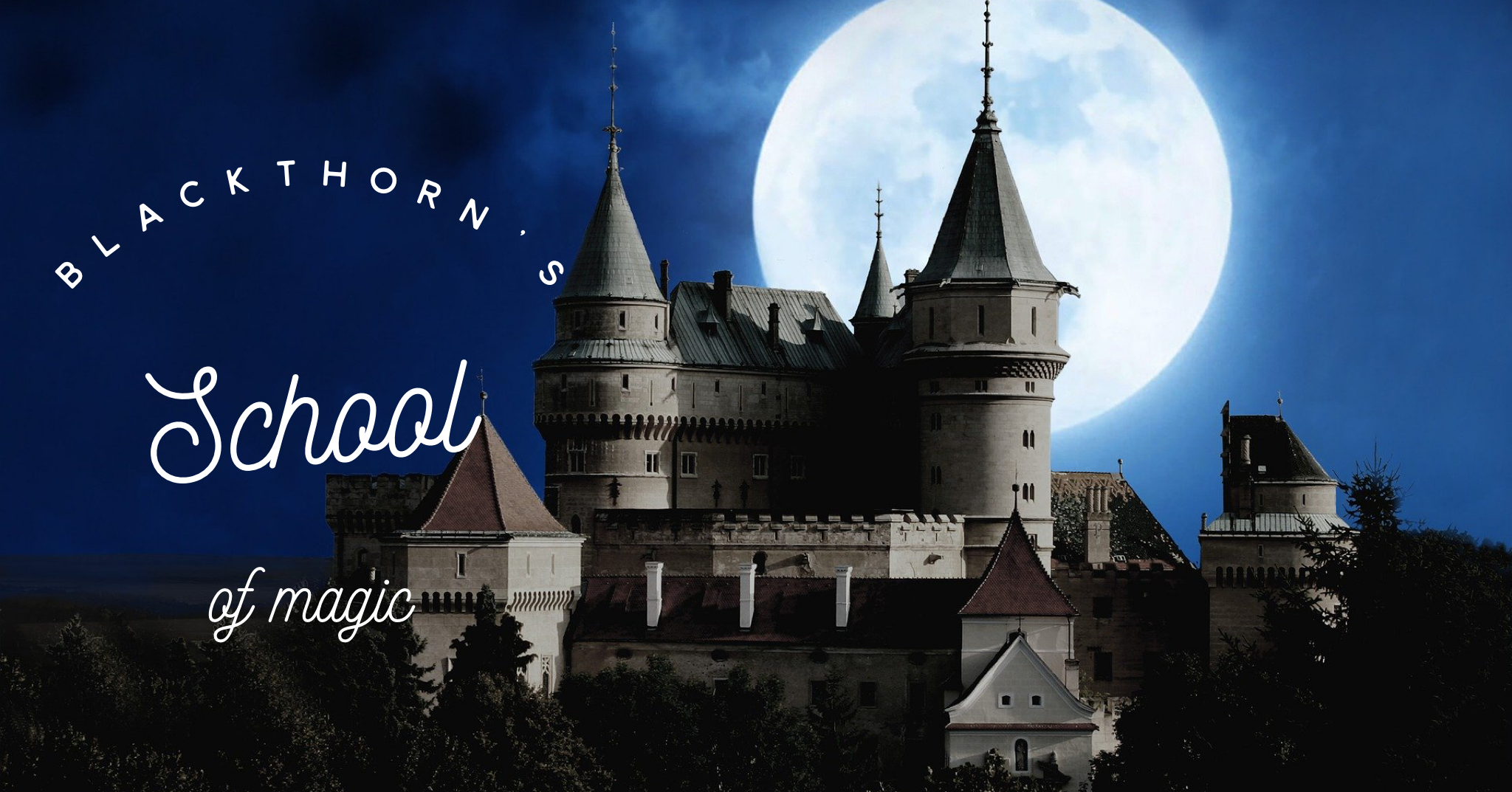 Suggested Reading List for Beginners
Wicca: A Guide for the Solitary Practitioner by Scott Cunningham
The Spiral Dance by Starhawk
The Triumph of the Moon by Ronald Hutton
What our Students have said
"Amy knows her way around herbs, and how to use them. Bring an empty notebook, you'll need every page." Paula A. "You explain things in an accessible way that isn't dumbing it down
Amy brought me light when I wasn't sure I could find it. If you need guidance she is the chick to talk to.
Amy is not only knowledgeable about her herbs in an encyclopedic manner but is a great person who gives sound advice and counsel in her readings. The woman is a powerhouse in both word and practice and has helped even lil old skeptical me with some stuff I have been working through. Not only have her herbal blends helped me to become more confident but her advice has helped me become a better person and helped me become more aware of my own abilities. And she does it with a smile on her face. She's definitely a professional and knows what she is doing.
Amy takes an intellectual as well as a spiritual approach to her work. You can count on her to know what she's talking about. If she doesn't have the answer right away, she'll be the first to not only admit it, but find you an expert's answer quickly. She's passionate and caring. You couldn't ask for better!
Amy is amazing - she knows her stuff and loves helping people learn and evolve to their highest potential. And she has this great sense of humor and infectious laugh that makes learning from her not only spiritually fulfilling, but fun! 🙂
Amy is a wonderful human being. Sweet and loving but tough and firm. She uses her knowledge for the good of others and is always there when you need her and sometimes when you don't. Either way, it is always an honor to have time with her, and tea! 🙂
If you have any questions, Amy can probably answer them. She will walk you through, talk you through and lend a hand when ever she can. She has always taken the time to help me with any questions I have. I would recommend her, without question or regret. 🙂
Amy is an expert at continually adding to her (incredible, by the way) wealth of knowledge and using it to educate others. She also happens to be smart, thoughtful, and a very awesome human being.
Amy is great! She is not just extremely knowledgeable in many areas, she also knows how to share her knowledge in a fun and effective way. She is also one of the kindest and sweetest people I have ever had the pleasure of knowing.
I have always found Amy to be professional, knowledgeable and generous with her expertise. Her secret is that she truly cares about her clients/students as people and strives to help them as best she can. Her positive nature and yet grounded outlook makes for dynamic and enjoyable conversations.
Amy has helped me through and is still helping me through many things on this new path. I personally have had a reading and reiki done by her and it's amazing what she's able to help me see, understand and accomplish in only a short amount of time spent with her. She's easy to talk to and bounce ideas off of but will never hesitate to tell you the truth. She's honest and honestly does care about the people she reaches out to help. Amy's got a really big heart and I feel honored to have had her help me.
Amy is a smart, kind, and fun teacher. She never makes you feel like you asked a stupid question. Her giving, loving nature is inherent in her teaching style, and her philosophy knowledge base is wide and varied. From astrology, crystals, and herbs, to many forms of magick, Amy is a gentle guide on the path to enlightenment. She is naturally gifted in so many areas and always happy to share her know-how and wisdom. Amy is a strong, confident woman who is entirely approachable. What can I say, she's just wonderful!
I've known Amy a long time as both my instructor and my friend. Her vast knowledge of plants and herbs alone is bar none. SHe also has an amazing knowledge base on a wide variety of topics from religion, philosophy, politics as well asthe more mundane subjects in life such as making home remedies and gardening. A discussion with her is never boring. Se has an open and friendly demeanor but this strong independent woman does stick by what she believes in!
Amy is an incredible resource, and generous with her expertise. Want to know something about plants? Ask Amy. Want to know something crafty? Ask Amy. Want to know something random and/or esoteric? Ask Amy. If she doesn't know offhand (which she most likely does) she knows how/where to find out, or knows someone who's an expert. Also, she's a hoot and three quarters, and you can really tell she likes helping people.
I highly respect and admire Amy. She is generous, compassionate, knowledgeable and carries a big gun! Seriously, I'm envious of the life she has created and her talents are legion.
Amy is awesome! She is smart, funny, and has so much knowledge to share and she does it willingly and kindly. Whether you are a novice or experienced she has something for everybody!
Amy has so much to offer people it is unreal. Not only does she have intelligence in many areas and aspects of life, but she has a big heart to go along with that. I highly recommend Amy!
Amy puts the G in Green. She has always shared her knowledge of plants, and herbs. She is a woman who does "walk the talk"! Very refreshing!
Intelligent, intuitive, creative, and kind--Amy is a true Renaissance woman with so much to offer in a wide-range of areas. She's a treasure.
Join Amy in a 90 minute teaser for 'Blackthorn's Botanical Brews,' a chat about developing a relational practice with fragrant materials and a primer on making your own hand rolled incense.
Cyndi Brannen from 'Keeping Her Keys' invited me to stop by for a coffee break to talk about witchcraft for those who deal with chronic pain.  (1 hr)
Phases of the Moon in Magic
Don't wallow in misery from full moon to full moon! New Moons and everywhere in between offer a full array of options when it comes to making sure your magic is successful!
Prosperity Magic:
This focused class will examine the variety of options available to practitioners in the realm of Prosperity magic.  We'll examine effective tools for maintaining a budget with the phases of the moon, using Money Draw tea to meditate on financial goals and how to create a candle spells for life's unplanned events.
Love Magic:
Rev. Amy's most requested class.  We'll start with the ethics of love magic and move through self love, self care and letting the gods know you're ready for romantic love and into how to create the perfect working for your individual needs!
The Elements in Magic
Understanding the Elements in ritual practice is an important part of inviting them into ritual space.  Earth, Air, Fire, Water, and Spirit aren't just honored guests in a ritual but an integral part of the structure of a Circle.  Building and maintaining these relationships will help strengthen your magic and your relationship with yourself.
Protection Magic:
This focused class will examine the variety of options available to practitioners in the realm of Protection magic.  We'll examine effective tools for maintaining a protective circle around your home, working with the phases of the moon, using your coffee / tea time to meditate on mending holes in your defenses and how to create a candle spells for life's unplanned events.
Purification Magic
This focused class will examine the variety of options available to practitioners in the realm of Purification magic.  We'll examine effective tools for purifying your circle, home, office and ritual space, working with the phases of the moon, using your coffee / tea time to purify yourself from stress and office gossip, as well as create a cleansing candle spell for life's unplanned events.
Charm School
This offering from Rev. Amy Blackthorn, a practitioner of Green Witchcraft, sets out to show how to use the spice rack and household goods around you, to attract money, blend oils to protect you and your family, and land that better job. Don't throw out those old Tee shirts! We'll discuss making charm bags to carry with you to attain your goals. Not handy with a sewing machine, that's okay! Remember: Magic is a system, not a religion. Anyone of any faith can use these techniques to further their goals. Rev. Amy will show you how to make a kit you can carry with you to reach your goals where ever you need it! No prior knowledge of herbs required.
"Astrology without Headaches": Basic Astrology 4 hours
This isn't your Sunday morning Horoscope! Join Rev. Amy Blackthorn for a look into your Personality. Together we will dissect the chart of where the stars were when you were born and see what it means about you! Learn how to deal with other signs, what Houses are, and their key phrases as well as how to best reach your potential. Don't worry about Squares and trines just yet, for those interested, there may just be a "part two" if enough people are interested!
Burnt Offerings With Sacred Smoke
Which herbs smell the best when burned?  Which herbs should I burn to honor my favorite deities? Can I create my own incense blends? Get these answers in more in this two-hour offering from resident Green Witch and tea maven, High Priestess Amy Blackthorn.
Past Life Regression Group
One of the most asked for events! Join High Priestess Amy Blackthorn on a journey to discover your past self. This guided meditation will take you back through the veil of years to discover who you were, and what a life you lived! Make sure to bring a yoga mat or blanket so you can sit or lie comfortably.  This is aimed at all ability levels, so the journeys will be in smaller chunks so that you can revisit the first journey or start a new one depending on comfort and information received.
Astrology,  Birth Charts for Beginners
Astrology is more than horoscopes in the newspaper.  Think of your birth chart as the description of the vintage of your own wine.  We'll learn the hemispheres of your birth chart, how to read your rising sign and more.
Print your free birth chart at home before coming to class and make sure to bring a notebook.  This class is heavy on details. 🙂 Free Charts can be obtained from Astrolabe alabe.com/freechart
Herbal Spellcraft 1
This offering from Herbal Practitioner, Rev. Amy Blackthorn, will focus on the herbs used in spellcraft to further your intentions. "Can I grow my own herbs, or do I have to use dried?" "Can Herbs be incorporated with other systems of Magic?" "What herbs can I burn for my Patron Deity?" "What are the five most versatile herbs to have in my supply cabinet?" These questions and more will be discussed in this 4 hour class. At the end of which, we will create our own herbal charms for your specific needs.
Herbal Spellcraft 2
A class and some new herbs!  Ever wonder what to do with all of the beautiful and exotic herbs you see in the garden center?  In the first Spellcraft class, we learned what herbs and symbolism add to your magic.  Now we will discuss specific herbs, their purpose, and how to blend the actions of specific plants, into the symphony of energy that makes up any good spell. Please bring a note book and pen to class along with an inquisitive mind, and a need, for your spell. Remember to bring your questions and ideas as advanced classes are directed by the needs of those present.
NOTE: Herbal Spellcraft 1 is recommended for this class, as more advanced topics on magickal theory are discussed.
Tarot in Spellwork (Major Arcana)
The Major Arcana in the Tarot is a journey.  In this class we'll talk about the Fool's Journey and how to take the energy of cards and designs that are hundreds of years old and use it to boost our magic. From incorporating tarot cards with your candle magic to meditations on how the journey can change your circumstances.  Even if you've never picked up a deck before, you can use the tarot in your intentions.
Tarot in Spellwork (Minor Arcana)
The Minor Arcana in the Tarot is our lives in day to day.  In this class we'll talk about the people we meet in the court cards and how to take the energy of cards and designs that are hundreds of years old and use it to boost our magic. From incorporating tarot cards with your candle magic to meditations on how these pips can change your circumstances.  Even if you've never picked up a deck before, you can use the tarot in your intentions.
Magical Symbolism
Like the outpost of the esoteric, there are many symbols that pop up in modern witchcraft and they can be confusing.  Join your tour guide through the trans-mundane, Amy Blackthorn for a trip through the symbols you'll encounter as a new practitioner of the Craft.
Samhain: Lore and Magic
Samhain is the Witches' New Year, we'll journey together to find the purpose behind this hallowed celebration, explaining our fascination with pumpkins and how to invite cherished loved ones to a dumb supper as well as appropriate rituals for solo practitioners and those looking to invite friends.
Ready, Set, Witchcraft!
The preparation for magic is the foundation towards success.  Meditation, working with the breath are just some of the parts that ready us for ritual and magic.  Ritual Baths, special clothing and more can make sure we are ready for the work we undertake.
Raising Energy for Magic
How can we make your magic more effective?  Feed it!  If candles are the focus for your spell, energy is the fuel that drives your magic.  We'll talk about movement, music, chanting, singing and more to help make your magic soar!
Creating your own Spells –A Beginner's Guide:
Giving yourself permission to take control of your life is a major draw to magical practice.  In this workshop we will examine the limitations we place upon our own practice.  Ethics of magical practice, types of workings and spells in history are all discussed. 90-120 mins
Tools, What is a Wand for anyway?
We have seen a Witch's tools portrayed in movies from Harry Potter to Cinderella and everywhere in between. In this offering from Rev. Amy Blackthorn we will explore the functions of a variety of Tools for the Witch, where they come from and how to use them in ritual and spell work as well as look at many varieties and differences between styles and materials.
Ritual Building
We hear so often our pagan peers speak to the lovely rituals they e attended both public and private. Now learn the basics of constructing a ritual and understand how the dynamics of each part of that ritual will bring you closer to the divine or your magical workings.
Gods and Goddess
Journey with Rev Amy Blackthorn to the pantheons of old. Together you'll learn the basic stories and relationships of some of the most popular families in Paganism. Hearing the names of different gods and goddesses can be confusing until you get to know them.
Crystals and Magick
If colors and candles can help you focus on your spell work, Crystals can be a battery to help power those spells, center your focus and empower your life. Learn about colors, gemstone shapes and their uses as well as tricks to make sure you're getting real stones.
Altars:
Altars aren't just nice tables to work on, they are sacred space.  The arrangement of these spaces can range from a single candle working to elaborate decorative tables featuring the macrocosm in the microcosm.  We'll talk about the How, where and when to use altar spaces as well as whether they have to be permanent structures or they can be stored when not in use.  We'll touch on safety concerns for pets and small children as well as placement in the home for those with roommates, children and those in the broom closet.
Secrecy and the Craft:
In a mystery religion like Wicca, there are often times when we are asked to keep secrets, confidences and counsel, and rightly so.  In this offering we'll discuss why secrecy is used, how important it is, or isn't and when keeping secrets can do more harm than good.  Safety and security should be in the forefront of our minds, but can often be neglected in real world discussions of the world we live in.
Pentacles, Which way is up?
This much maligned symbol can be a sore point with new practitioners as well as well meaning relatives.  In this class we'll discuss what it means, how it is used in ritual and how to reassure relatives who may not understand the significance.  We'll also have a chance to touch on the use in Traditional Witchcraft covens through the degree system.
Making Magic Merry
There's a reason it's called the Craft.  In this class, we'll look at how, when and why to write your own spells.  While large dusty tomes of old spellwork are fascinating,  they aren't always practical. We'll talk about the lovingly plotted-out workings and quick fix, emergency spellwork.  We'll also expound on the idea of magical ethics and discuss the ramifications of spells and free will.
Solo Mojo or Group Grooves?
Those Hollywood Witches, man.  Always have a babysitter, always have their robe steamed all the wrinkles out and arrive to ritual in a sleek car with lots of other attendees all wearing the same thing, with perfect hair and makeup.  We know real life isn't Hollywood.  In this class we're going to discuss whether coven life is right for you, the benefits of remaining solo and the perks of checking out groups along the way.  Because let's face it, if it doesn't feel right, if it doesn't fulfill you and spark your spirit, there's no point in doing it.
"The Green Witch's Tea Party"  (90 mins to 2 hrs) (Conference or Shop only)
You won't even realize you're learning with this dashing lady of the transmundane!  The fun is in the teaching with this lavish tea party.  You will enjoy proper loose leaf herbal and black teas, being enjoyed in the comfort of a warm and delightful soiree.  Bring your friends and while Tea is being prepared, your esoteric hostess will explain the history, lore and love of the symbols used in Tea leaf reading. Drinking and enjoying the tea infuses it with the energy of your possible futures.  After the Tea is finished, we will explore what awaits you in the bottom of your cup and in your future!
Writing classes:

Banish the Block
Muse got you down? Need a Kick start for your creativity? Look no further for this fun and simple craft class. "How To create your own Voodoo Doll". Want to increase your book sales? Learn what to fill your doll with. Frustrated with writers' block? Here's a doll you can smack on your desk instead of going through pain relievers from banging your head on the keyboard. 30 Minutes
Spell Craft for Fiction Writing
Need a spell to combat an "Ancient Prophesy" in your story line? Maybe your Paranormal Romance addiction has some holes in it because you don't know who Artemis and Ares are. Spell writing basics for your fictional stories are included in this offering from Writer and Witch, Rev. Amy Blackthorn. Spell writing doesn't require arcane components that you can't pronounce, much less find, just some imagination! 60 Minutes
Introduction to Herbs and their Uses
This class can be applied to both your writing and your daily life. Ancient cultures used herbs and plants to make their homes smell nice, to keep pests away and to keep them healthy! Also provided is information on the Victorian Language of flowers. Getting violets from a lover? Find Yarrow on your doorstep on May Eve? Find out what they mean and more! 90 minutes
Character Building with Astrology
Have a stubborn character that won't "tell" you about themselves? Let this class help you out! Have a detective that feels a little shallow? Perhaps you can pick their sign, and let the astrological key words help you find traits for them! Works in reverse, pick a date, and we'll discuss the inherent traits of that sign! Works on real life people as well. Is your Gemini bud really two people? You bet! This interactive class will help you see beyond newspaper "horoscopes" to the heart of astrology! 60 minutes